At the age of 1 Tyler was diagnosed with Cerebral Palsy (CP). CP is an incurable central motor dysfunction affecting muscle tone, posture and movement. CP is neither genetic nor an infectious disease, and thus it is not contagious. Most cases are congenital, arising at or about the time of birth, and are diagnosed at a young age. A few months after his CP diagnosis, Tyler was also diagnosed with Epilepsy. Epilepsy is characterized by seizure that can vary from brief and nearly undetectable to long periods of vigorous shaking. In epilepsy, seizures tend to recur, and have no immediate underlying cause. Tyler has been on various medications from the time he was 6 months old. His latest medication, introduced to him in 2013, has allowed for some significant progress in his development for which his mother is very thankful.
Furthermore, around the time of his birth, Tyler suffered a lack of oxygen, causing global brain damage. Tyler is not only physically handicapped but mentally as well. As such he is fully dependent, uses a wheelchair, and needs assistance with general mobility, every meal, every day needs. He can eat soft solids or well mashed food but he does not chew since his oral motor skills are affected. Tyler had a feeding tube surgically implanted into his stomach for liquid intake as he will aspirate on thin liquids if he takes them orally.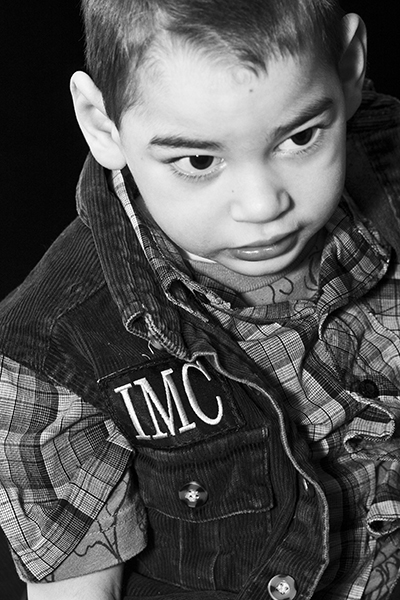 Tyler is now 4 years old. He and his mother Angele moved to Sudbury from Espanola in October 2013 so that he could attend the Health Sciences North's Children's Treatment Centre. The Children's Treatment Centre is a family-centered community-based rehabilitation facility. He attends school there 2 ½ hours a day, Monday through Friday.
Tyler is a vibrant, happy and eager little man. Since attending school at the Children's Treatment Centre in Sudbury he has made much progress and will continue to do so at his own pace. He loves music, books, Thomas the Train and long walks/drives. He is easy going and has a great BIG personality. With everyone he meets he seems to find a place in their hearts.
Tyler lives with his mother Angele at socially assistant housing property in Sudbury. The two bedroom unit they occupy is inadequate in terms of space due to all of the extra equipment involved with raising a special needs child. Unfortunately, their current housing is not an accessible unit, something that Angele that they might transition to sooner than later.
The family is on a fixed income and Tyler receives a small amount from disability. Some of the equipment he needs is also covered, such as wheelchair, stander, toilet system, but falls far short of optimizing his health and wellbeing.
The list of things that are not provided for is long and expansive. This is where Ride for a Friend comes in. Help us help this family with the many thousands of dollars in expenses facing them down the road.
• Repairs to their wheelchair accessible van.
• Travel to Tyler's appointments, locally and to the Toronto area.
• Specialized beds
• Specialized chairs
• Specialized developmental toys
• Expensive personal care products (special diapers, etc)
• Special stroller for walks and outdoor activities (wheelchairs are no good for off road use)
Angele wishes to one day send Tyler for a return trip to Ability Camp in Picton, Ontario. The center offers a 5 week Conductive Education and Hyperbaric Oxygen therapy program specifically designed for children with Cerebral Palsy. Tyler has been fortunate enough to attend these programs twice before with great success. He gained many strengths and abilities including learning how to sit up independently. The program also taught Angele different therapeutic approaches and many ways to help her son with everyday challenges. Unfortunately good things sometimes come at a price. This program costs nearly $10,000.
As you can see, the financial burden on this family is substantial, and the costs will only continue to grow as Tyler gets older. The simple things that the "average" person may need, often comes at a significant cost to those with special needs.
Angele is a single mother, raising Tyler on her own. She says it hasn't been easy but Tyler is and has been her priority, her joy, her love and her life since the day he was born. She's a full time mother, caregiver, nurse and secretary.
Please consider taking part in Ride for a Friend and help us give this family a brighter future.